Metalife Industries Inc. founded in 1964, was originally a franchise under a different name and operated by engineers William Beatty & Robert Kockler, Sr. It's believed the original application was a thin dense chromium process developed by the Naval research laboratory during WW II and used mostly in corrosive applications. After WW II the process was released from the military and found to be excellent in wear application such as cutting tools, gauges and drills.
To date, Metalife continues to produce and improve the proprietary chromium application. In addition, in 1994 we added our highly advanced MLP coating . MLP is a coating that provides a hard, ductile and extremely slippery surface unlike any other coating available.
Metalife is ISO 9001:2008 certified. We follow a stringent Quality Assurance program to ensure every piece processed performs superbly in your application. Our program is outlined in our Quality Policy Manual which is available for review.
Environmentally, Metalife is in total compliance with the Environmental Protection Agencies strict requirement. Metalife is a completely closed loop system, therefore all rinse water and chemicals are reused and absolutely no discharge to the environment occurs. Metalife is also a participant in the United States EPA's Strategic Goals Program (SGP). The SGP is a voluntary program that encourages companies to go beyond just environmental compliance.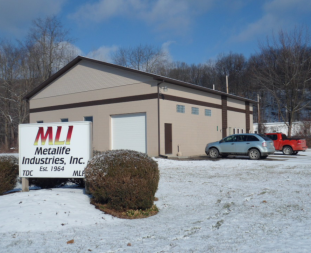 Metalife is family owned and operated and seventy percent of Metalife's staff has over 20 years of experience working for Metalife.
Customers of Metalife not only enjoy the best products in the industry but to keep business coming back, Metalife offers unbeatable customer service.