Liquid (Vapor) Honing

The Liquid (Vapor) Honing process is applied to metals for the following reasons:
Treat the surface to make it metallurgically clean, prior to electro-polishing, electro-plating, or other coating processes.
Remove machining or directional polish lines or marks on such objects as molds and dies for metal, plastics, or rubber.
Produce a controlled, microscopically pitted surface to retain lubricant uniformly.
Remove microscopic fuzz from cutting edges of tools to reduce flank wear and tool friction.
Produce an attractive matte surface.
Increase tensile strength and relieve stress concentration through impact.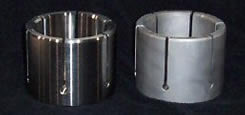 Before After